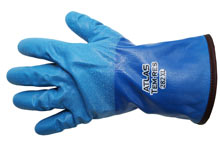 View larger image
ATLAS PU INSULATED GLOVE (282)
Warmth, Breathability, and Flexibility have all been
combined into a Liquid-Proof glove. The TemRes provides
the wearer with protection from liquids in cold
conditions while still allowing them the comfort of a
breathable glove. The abrasion-resistant polyurethane
coating and insulated acrylic liner were specially
designed to retain warmth while reducing perspiration.
The thin, yet durable coating maximizes comfort and
flexibility in very cold environments. Nitrile was added
to the fingertips to increase protection. Launder at 40ºC
(104ºF) using a neutral detergent.
ATLAS PU INS.GLOVE,282 (MD/8)
Part Number:
16-265
Available:
In Stock
$29.95
ATLAS PU INS.GLOVE,282 (LG/9)
Part Number:
16-266
Available:
In Stock
$29.95
ATLAS PU INS.GLOVE,282 (XL/10)
Part Number:
16-267
Available:
In Stock
$29.95
ATLAS PU INS.GLOVE,282 (2X/11)
Part Number:
16-268
Available:
In Stock
$29.95