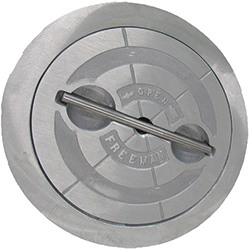 View larger image
FREEMAN ROUND HATCHS
Freeman Marine hatches are used on a wide variety of fishing boats, tugs, barges, rescue craft and other workboats.
The hatches are fast acting and easy to use. Simply grasp the handle and pull, the shaft slides into place, and with less than a quarter turn, completely disengages the locking mechanism.
The dogs and linked handle do the work smoothly in just a second. Our easy lift system allows simple removal.
With the locking mechanism disengaged, the hatch is resting on the deck ring and can be lifted out with one hand.

•Watertight hatches are designed to seal up to 30 foot intermittent head, the double sealing gasket seals tighter under pressure.
• Dogging mechanism assures smooth consistent action, no binding or jamming.
• Hatch comes complete with deck trim ring.

15" FREEMAN ROUND HATCH
Part Number:
34-240
Available:
In Stock
$1,195.00
18" FREEMAN ROUND HATCH
Part Number:
34-241
Available:
In Stock
$1,275.00
20" FREEMAN ROUND HATCH
Part Number:
34-242
Available:
In Stock
$1,295.00
24" FREEMAN ROUND HATCH
Part Number:
34-243
Available:
In Stock
$2,035.00