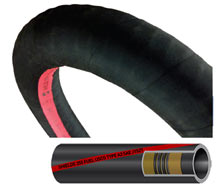 View larger image
FUEL FILL HOSE
Shields Fire – Acol – Fuel Fill Hose resists
gasoline/alcohol blends and is compounded for low
permeation. It is abrasion resistant and it is reinforced
with wire helix imbedded between plies of HD synthetic
cord. This imported hose is primarily used for fuel fill
(gas or diesel) and is for pleasure boats only. It meets
SAE J1527 Type A2 and ISO 7840 Type A2 NMMA/CE Type
Accepted standards.

**Priced per foot.
1 1/2" FUEL FILL HOSE
Part Number:
38-173
Available:
In Stock
$11.95
2" FUEL FILL HOSE
Part Number:
38-174
Available:
In Stock
$17.50