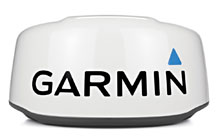 GARMIN GMR18XHD 4KW/48NM RADAR
Next-generation, 4 kW high-definition GMR 18 xHD dome radar pairs ease of use with advanced open-array features. Its
intuitive operation makes modes and settings simple to understand so you can enjoy great performance without a lot of
technical know-how. The GMR 18 xHD delivers higher resolution than our previous generation 18" dome radars. New
Dynamic Auto Gain and Dynamic Sea Filter continually adjust to your surroundings, providing optimal performance in
varying conditions. Choose from multiple levels of aggressiveness or use manual gain adjustment. Dual range operation
allows fully independent split-screen display of far and close radar views in full 8-bit color (select chartplotters); range of
48 nm. Optional "No Transmit Zone" can protect areas behind the radar from being radiated while providing full forwardlooking
radar capability. This makes installation more flexible by providing more suitable installation options on your
boat.
Can use with any network compatible Garmin Chartplotter as your radar screen. Ex: GPSMap
721/820/1020/7410.
GARMIN GMR18XHD 4KW/48NM RADAR
Part Number:
26-834
Available:
In Stock
$2,599.95