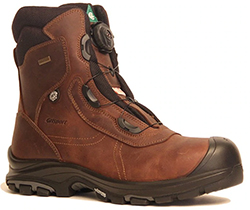 View larger image
GRISPORT BOA CONSTRUCTOR (BROWN)
A lightweight and comfortable boot featuring a waterproof lining to keep your feet warm and dry when out in the elements.

The boa-quick release system allows quick on/off when entering homes etc. Simply turn to tighten for all-day comfort. Micro-adjustments can be made while you work, without needing to remove gloves.

Full grain leather upper
Breathable and water-resistant
Black Vibram TPU outsole
Lightweight Injected Polyurethane (PU) midsole
Perforated steel toe cap
Composite puncture resistant plate
Boa closure system – aircraft grade stainless steel laces with a lifetime warranty
Scuff resistant toe
MADE IN ITALY

SIZING RECOMMENDATION:

Due to the nature of GRISPORT BOOTS, we highly recommend men to go ½ or 1 size up from their normal shoe size.

This is to ensure you get the most comfortable fit.

GRIS BOA CONSTRUCTOR, BR. (5)
Part Number:
15-5000
Available:
In Stock
$285.95
GRIS BOA CONSTRUCTOR, BR. (6)
Part Number:
15-5001
Available:
Out of stock
$285.95
GRIS BOA CONSTRUCTOR, BR. (7)
Part Number:
15-5002
Available:
In Stock
$285.95
GRIS BOA CONSTRUCTOR, BR. (8)
Part Number:
15-5003
Available:
In Stock
$285.95
GRIS BOA CONSTRUCTOR, BR. (8.5)
Part Number:
15-5004
Available:
In Stock
$285.95
GRIS BOA CONSTRUCTOR, BR. (9)
Part Number:
15-5005
Available:
In Stock
$285.95
GRIS BOA CONSTRUCTOR, BR. (10)
Part Number:
15-5006
Available:
In Stock
$289.99
GRIS BOA CONSTRUCTOR, BR.(10.5)
Part Number:
15-5007
Available:
Out of stock
$289.99
GRIS BOA CONSTRUCTOR, BR.(11.5)
Part Number:
15-5008
Available:
Out of stock
$289.99
GRIS BOA CONSTRUCTOR, BR.(12.5)
Part Number:
15-5009
Available:
Out of stock
$289.99
GRIS BOA CONSTRUCTOR, BR.(13.5)
Part Number:
15-5010
Available:
In Stock
$289.99