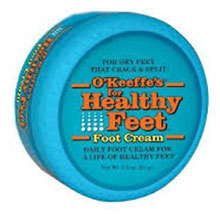 OKEEFES HEALTHY FEET (3.2oz)
Guaranteed relief for dry feet that crack and split.
O'Keefe's healthy feet is a highly effective moisturizer
for severely dry skin that frequently cracks and splits.
The odourless, concentrated formula naturally hydrates
the skin, adjusting the pH balance and helping to retain
moisture. Creating a difference you feel within days.Safe
and effective for people with diabetes.
OKEEFES HEALTHY FEET (3.2oz)
Part Number:
52-913
Available:
In Stock
$10.75