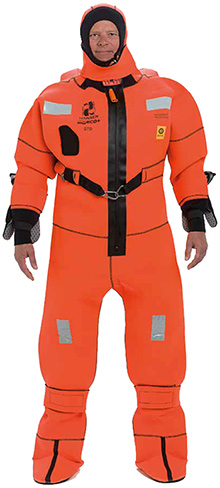 View larger image
SeaEco IMMERSION SUIT
6 hour thermal protection. Spacious suit, separate gloves, long high quality zip. Durable, heat proof, anti slip rubber soles. Tightening straps below the knees for better fitting. Removable gloves attached with elastics. STD size fits 95% of the population. Approved for use without a lifejacket. Buoyancy pillow in back ensures correct flaoting position and freeboard. Immersion suit for the merchant fleet. Flame retardant 5 mm neoprene. Emergency light. With buddy line and floating hook.Lifting strap with stainless steel D-ring and carabine hook. Easy donned, waterproof PU-Zip. Approved reflective patches. Fixed hood. Watertight cuffs. Gloves
attached by elastic bands. Velcro tighteners in legs. Rubber soles for optimal grip on slippery
surface. May be vacuum packed for extended service
intervals (maximum 5 years).
SeaEco IMMERSION SUIT (SMALL)
Part Number:
10-028
Available:
In Stock
$715.00
SeaEco IMMERSION SUIT (UNIVERSA)
Part Number:
10-029
Available:
In Stock
$715.00
SeaEco IMMERSION SUIT (JUMBO)
Part Number:
10-030
Available:
In Stock
$835.00