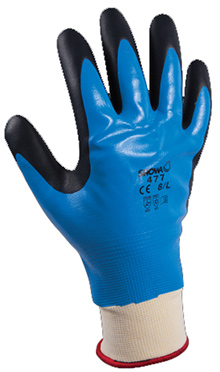 View larger image
SHOWA INSULATED GLOVE #477
Insulated liner protects provide barrier from cold
ensuring warmth and comfort all day long. Fully
double engineered coating protects against liquids and
water penetration. Impermeable for working in damp or
greasy environments, keeps your hand dry. Dual nitrile
coating technology provides optimal grip longevity.
Highly flexible and resistant to abrasion and tearing.
Replicates the natural curvature of human hand and so
reduces hand fatigue.
SHOWA INS. GLOVE #477 (7/M)
Part Number:
16-280
Available:
In Stock
$16.89
SHOWA INS. GLOVE #477 (8/L)
Part Number:
16-281
Available:
In Stock
$16.89
SHOWA INS. GLOVE #477 (9/XL)
Part Number:
16-282
Available:
In Stock
$16.89
SHOWA INS. GLOVE #477 (10/2X)
Part Number:
16-283
Available:
In Stock
$16.89