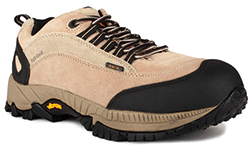 View larger image
STC BRUCE WORK SHOE (BROWN)
•Waterproof suede upper with H2O Seal sealed seams.
• Steel toe protector and composite puncture-resistant insole.
• Breathable and abrasion resistant lining with antimicrobial treatment.
• Removable Instant Comfort insole made of gel, PU and memory foam.
• Natural and robust rubber scuff resistant bumper toe increasing wear protection.
• Dual density Vibram HK-R outsole made of TC4+ natural rubber and comfortable lightweight EVA core.
• Padded tongue and collar allowing extra comfort.
STC BRUCE W/SHOE, BR. (6)
Part Number:
15-2724
Available:
Out of stock
$189.95
STC BRUCE W/SHOE, BR. (7)
Part Number:
15-2725
Available:
Out of stock
$189.95
STC BRUCE W/SHOE, BR. (8)
Part Number:
15-2726
Available:
In Stock
$189.95
STC BRUCE W/SHOE, BR. (8.5)
Part Number:
15-2727
Available:
Out of stock
$189.95
STC BRUCE W/SHOE, BR. (9)
Part Number:
15-2728
Available:
In Stock
$189.95
STC BRUCE W/SHOE, BR. (9.5)
Part Number:
15-2729
Available:
Out of stock
$189.95
STC BRUCE W/SHOE, BR. (10)
Part Number:
15-2730
Available:
In Stock
$189.95
STC BRUCE W/SHOE, BR. (10.5)
Part Number:
15-2731
Available:
Out of stock
$189.95
STC BRUCE W/SHOE, BR. (11)
Part Number:
15-2732
Available:
In Stock
$189.95
STC BRUCE W/SHOE, BR. (12)
Part Number:
15-2733
Available:
In Stock
$189.95
STC BRUCE W/SHOE, BR. (13)
Part Number:
15-2734
Available:
In Stock
$189.95
STC BRUCE W/SHOE, BR. (14)
Part Number:
15-2735
Available:
Out of stock
$189.95